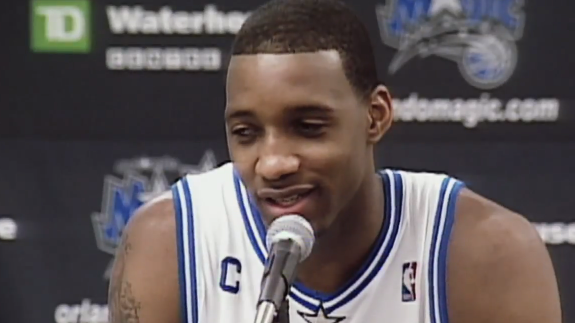 Tracy McGrady is calling it quits after 16 seasons in the NBA playing for the Raptors, Magic, Rockets, Knicks, Pistons, Hawks and Spurs. The seven-time All-Star announced his decision today on ESPN's First Take and Twitter.
Thank all of you who have supported me over 16 NBA seasons, 7 All-Stars, and countless exciting moments. Retiring from NBA. Stay tuned. #mac

— Tracy McGrady (@Real_T_Mac) August 26, 2013
Tracy McGrady averaged 19.6 points, 5.6 rebounds and 4.4 assists per game during his career. T-Mac is only 1 of 7 players in league history with 8 straight seasons of 20 PPG, 5 RPG, 4 APG. Kobe Bryant, LeBron James, Michael Jordan, Oscar Robertson, Kevin Garnett and Larry Bird are the other to accomplish that feat.