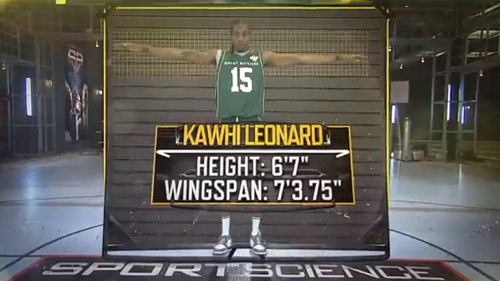 For Kawhi Leonard the NBA Finals comes with a bit more added pressure cause he'll be charged with the task of trying to stop 4-time league MVP LeBron James every other night. This would give me anxiety. In all likelihood, Leonard will not be able to "stop" James from dominating because that's impossible. However there still remains an outside chance Leonard could slow LBJ down a tad.
Using his wingspan (7'3.75″) that's longer than Tyson Chandler, his massive hands (11.5″) measuring wider than a football and his cat like reaction time. If there is anybody on the Spurs roster with the ideal tools to stop the best player in the game, it's Leonard.
Let the sports science behind this intriguing matchup dazzle you after the jump.