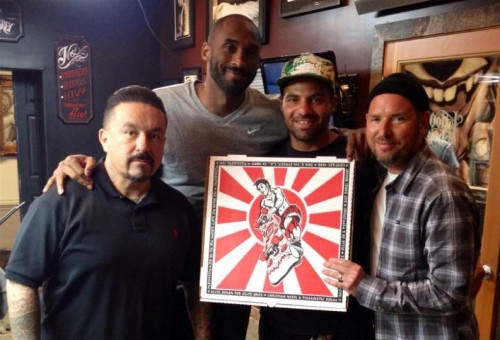 Leading up to and during the season, Kobe Bryant swore off "junk food" aka delicious food like pizza opting for clean eating (BOOO!!!) to sustain himself for the long season. The results, the Lakers got bounced from the playoffs and Kobe tore his achilles. Fail. Hard.
So it's a good thing that Bean starting his offseason right with some pizza from Pizzanista! located in downtown LA owned by skateboarding legend Salman Agah who he took a picture with (above) that also included awesome artist Mister Cartoon, and the owner of Element Skateboards Johnny Schillereff.
If you're a  Lakers fan, this picture should make you extra happy. Why? Cause Kobe Bryant eating pizza means 81-point games, MVP trophies and championship rings. Kobe Bryant anti-pizza means a terrible season, injury, and a first round exit for the Lakers in the playoffs. So prepare for an amazing season with extra cheese LA.