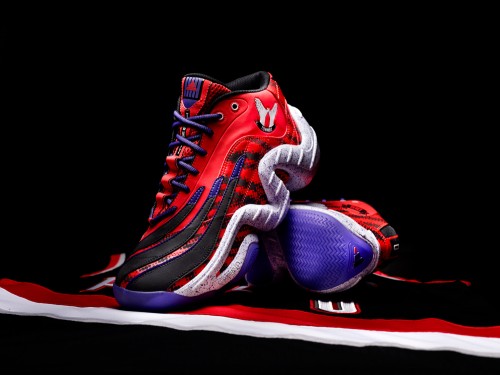 Old meets new with the adidas Real Deal x Damian Lillard Rookie of the Year Edition. The memorable shoe from the late 1990s is back in a limited edition version, designed to commemorate Lillard's historic debut season.

The shoe's sockliners feature Damian's Twitter handle, an Oakland satellite print and "9800s" to represent his neighborhood blocks. The colors of the shoe pay homage to his career; red for high school, purple for college and black for the Portland Trail Blazers.
The animal print on the upper and sockliner represent the Wildcat mascot he had in both high school and college. The shoe features "Townbiz" on the upper as another nod to Oakland and clasped hands to represent the "Fly Guyz" – Damian's name for his close circle of friends.