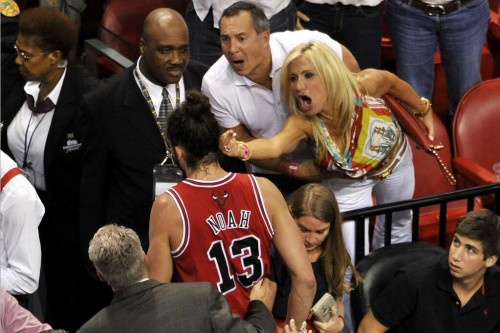 The crazy lady who gave Joakim Noah a single freedom rocket during Game 2 in Miami, as he headed to the locker room after being ejected. Has a crazy backstory that should be some kinda Michael Bay movie. Here are five quick facts about Filomena Tobias, the most notorious Miami Heat fan of all-time.
1. She is the widow of former CNBC commentator Seth Tobias
"The woman whose one-finger salute has become an Internet sensation overnight is Filomena Tobias, the widow of former CNBC commentator and financial wizard Seth Tobias, said Filomena Tobias' daughter, Victoria Racanati" – Sun Sentinel
2. She once tried to suck cocaine out of her husbands nose — at a dinner party — in public
"Tobias had promised Phyllis that he would stop using cocaine, but she didn't believe him. In the fall of 2005, the couple was having dinner at Bice, a Palm Beach restaurant, with six other people. Just after sitting down, Phyllis jumped from her seat and placed her lips over Tobias's nose and began sucking. She was searching for cocaine residue." – New York Times
3. Her former brother in law thinks she has something to do with her husbands death
"[Tobias'] brothers, Samuel, Spence, Scott and Joshua, claim that Filomena Tobias drugged her husband and lured him into the pool, where he drowned. A former assistant to Seth Tobias has told the police that Filomena Tobias confessed to him that she had cajoled her husband, who was on a cocaine binge, into the water, promising him sex with a male go-go dancer know as "Tiger." A lawyer for Filomena Tobias has called the claims outrageous." – New York Times
4. She loves the Miami Heat
Filomena Tobias is a Heat season ticket holder whose family attends every game. – Sun Sentinel
5. Her third husband represented her in court in the death surrounding her second husband
Filomena's third husband, divorce lawyer Jay Jacknin, served as one of her lawyers in the cases surrounding Seth Tobias' death, and offered this description: "She had a great body. Women love her. Men find her fascinating. I just couldn't afford her." – Yahoo!
Bonus: Her daughter, upon seeing her mother flipping the bird on TV said: "I have to stay, she still looks really hot." – Sun Sentinel