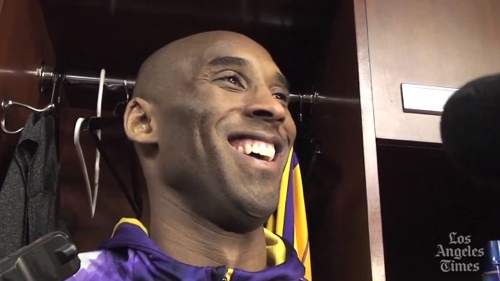 The latest version of this seasons Lakers are currently on a three game winning streak, all due to the same common thread. Kobe Bryant passing.
During this most recent attempt for the Lakers to renew hope in their nightmare season. Historically trigger happy Kobe Bryant has switched gears to becoming pass happy and the numbers don't lie. In the last three games Bryant has taken 34 shots while racking up 39 assists, which is the most dimes he has ever had in three games during his career.
The LA Times happy to finally speak with Bean about winning, dug a little deeper to ask about his new found talent.
Q: Is this something that you could grow perhaps to love as much as scoring?
A: I can do it, man — I'm like Neo out this mother[expletive]. Yeah, I enjoy doing it. Like, when I prepare for each game, I look strategically at where the defense is going to be coming from, how to put guys in the right place to be successful. Y'know, my idol was Magic [Johnson] growing up, man, and I just so happened to not grow to 6'9″. After that, once I realized I wouldn't be 6'9″, man, that was the end of that dream.
Q: If you had really wanted it, how good a point guard do you think you could've ended up being?
A: What, you think I'm gonna sit here and say I wasn't gonna be the best? [My strengths would've been] exactly what you're seeing tonight, man. That's what it would've been. When I focus in on something, I become obsessed about it, and I want to be perfect at it. That's just my personality. So if I was to be a point guard, I'd just obsess over it and wouldn't stop until I get it absolutely right.
Passing Kobe Bryant seems like a happy Kobe Bryant