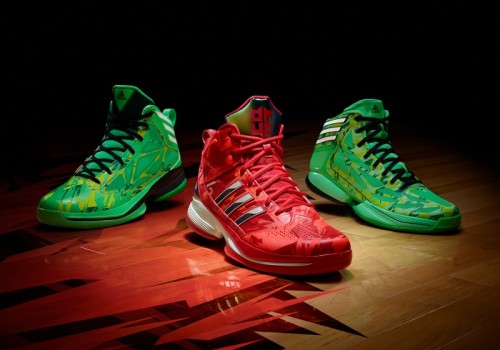 adidas athletes Dwight Howard, Jrue Holiday, Tim Duncan and few others will debut special NBA All-Star editions of the D Howard Light, adizero Crazy Light 2 and the all-new Crazy Fast at the 62nd NBA All-Star Game in Houston. Inspired by Houston's history of aviation, speed, style and the atmosphere of NBA All-Star weekend, these special editions roll-out February 1 at adidas.com and select Houston retailers.
The Crazy Fast features an all-new SPRINTWEB design with tighter panels to improve support, reduce weight and make players quicker and more comfortable on the court. The design is inspired by the speed and power of a combustion engine and the drive inside players to dominate on the court. The bold, green zest NBA All-Star edition will be worn on-court by Jrue Holiday of the Philadelphia 76ers (East), Tim Duncan of the San Antonio Spurs (West) and Rising Stars Challenge and NBA All-Star Saturday Night participants.
The adizero Crazy Light 2 NBA All-Star edition will roll-out in the impact camo green zest colorway. At 9.5 ounces, it is the lightest basketball shoe on the planet.
The D Howard Light NBA All-Star edition signature shoe will roll-out in an impact camo red colorway for one of the most explosive players in the league – seven-time NBA All-Star Dwight Howard. The D Howard Light is his lightest signature shoe to date and features more support and comfort. It features a reflective tongue made of chrome material inspired by the backside of a compact disc to pay homage to his passion for music. The chromed three stripes and heels will pop under the bright lights at the NBA All-Star game.