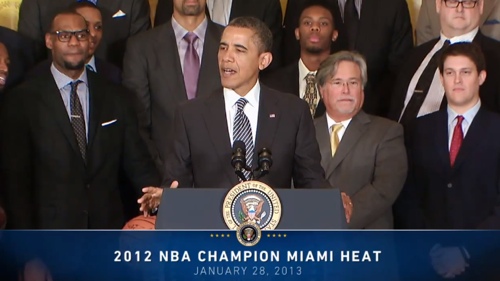 Chicago guy and President of the United States Barack Obama honoured the Miami Heat today at a White House ceremony. In typical cool Obama style, he poked fun at the basketball skills of LeBron James, Chris Bosh and Dwyane Wade while praising them for being responsible fathers.
"For all the young men out there who are looking up to them over time, for them to see somebody who cares about their kids and is there for them, day in, day out, that's a good message to send,"
The Baller and Chief also had hilarious comments on Mike Miller calling him an old man and Juwan Howard calling hm an even older man. The President also recognized the Heat for supporting military service members at Walter Reed National Military Medical Center.