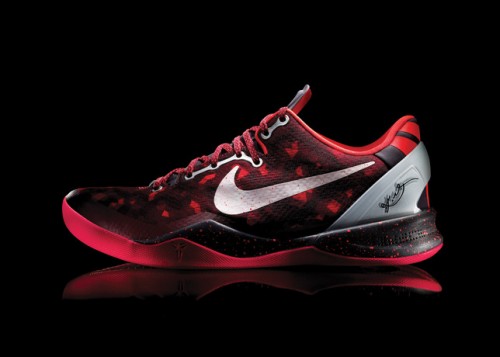 In celebration of 2013 as the Year of the Snake on the Chinese lunar calendar, Nike Basketball introduces three Chinese zodiac kicks inspired by Kobe Bryant and the Year of the Snake respectively.
With a snake graphic shoe tongue,  the KOBE 8 SYSTEM (above) Year of the Snake special edition is inspired by Chinese kung-fu to represent Kobe's bold, aggressive style on the court. The four icons on the outsole stand for Kobe's speed, precision, vision and versatility. The color red symbolizes danger and the destructive power of Kobe's speed. The snakeskin pattern on the shoe is a perfect interpretation of Kobe's on-court alter ego, the Black Mamba.
Check out the KOBE 8 BLACK and the NIKE KOBE 8 RED below.
The NIKE KOBE 8 BLACK in snake print is exclusively designed for the Year of the Snake. It is made of black leather in snake print to echo Kobe's Black Mamba nickname and symbolizes his aggressiveness on the court.
NIKE KOBE 8 RED is the off-court version of the KOBE 8 SYSTEM. The Year of the Snake model is made of red suede for the Chinese New Year. The one-piece design uses Vac-Tech and laser-etching technologies, which gives the shoe a clean-cut look that is consistent with previous Kobe collections. The etchings on the outsole combine timeless herringbone and snake scale patterns.