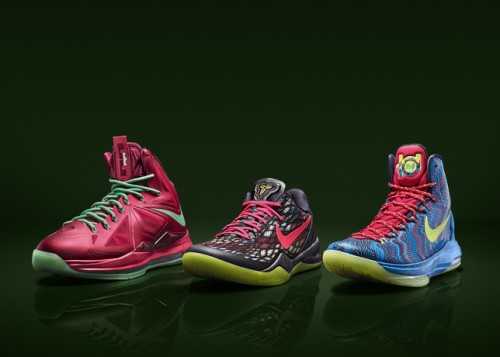 You watched LeBron James, Kobe Bryant and Kevin Durant play in these kicks on Christmas Day and you wanted them all.
Well, the good news is that on Boxing Day, Santa Claus made a special trip for sneakerheads worldwide by delivering these special colorways to local stores. The bad news is that, you'll have to buy them yourself cause Saint Nick stopped the free gravy train on the 25th.
Check them out below.
Furthering the diamond inspiration of the LEBRON X, the design team unearths the rarest of diamond colors, red, to serve as the creative muse for this colorway. Highlighted by a sun-washed green, the shoe also features a metallic-like reflection on the vibrant red upper.
In keeping with the snake-inspired design of Kobe Bryant's latest signature shoe, the KOBE 8 SYSTEM draws inspiration from the rhinoceros viper. The perfect snake skin for a holiday colorway, its bright red and yellow scales mimic a Christmas tree garland – but don't get too close.
As a kid, Kevin Durant recalls getting a video game system one Christmas. Inspired by video game graphics, Nike designers created the upper design, sockliner graphic and tongue tab logo for Durant's special Christmas Day shoe.