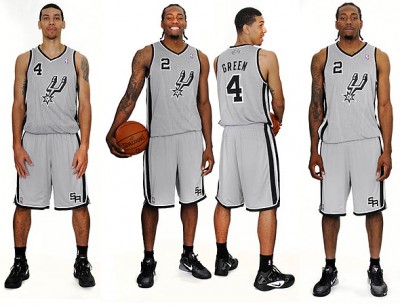 The San Antonio Spurs unveiled a dope new silver alternate jersey, ready for the upcoming season. The new duds keeps it classy with black trim accents, the Spurs logo on the front and the "Spurs" wording on the back just above the numbers.
"We are introducing a new and unique Spurs jersey this coming season," said Rick Pych, Spurs Sports & Entertainment President of Business Operations. "The new design simply features our iconic 'spur' logo and it is positioned over the heart as it has such enormously deep roots with our team, fans and the entire community. It's the first-ever NBA jersey logo without any writing or peripheral design on the front of the jersey and we're very glad to be introducing this new use of the classic icon of the Spurs to our fans."
The alternate jerseys will make their debut on November 1st when the Spurs take on the visiting Oklahoma City Thunder and will continue to be worn for multiple home games during the season. Get ready to see a strong spike in San Antonio jersey sales.