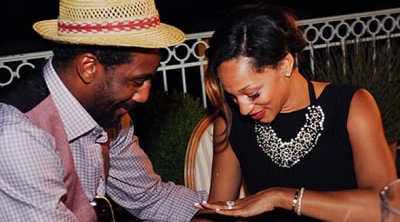 Over the weekend while you were chasing skirts in the club. Amare Stoudemire announced on Twitter that got hitched to longtime girlfriend and mother of his three children Alexis Welch in Paris.
"Paris, the food, & lights were very romantic. When she said yes, it was surreal. I'm still floating," Stoudemire said on Twitter.
Being the styling cat / designer he is, STAT also designed the 8.5-carat radiant-cut ring valued at more than $1 million and the setting has 3.50 carats of flawless diamonds set in 18-carat white gold . These two love birds are scheduled to be married in 2013.
See the huge rock after the jump.