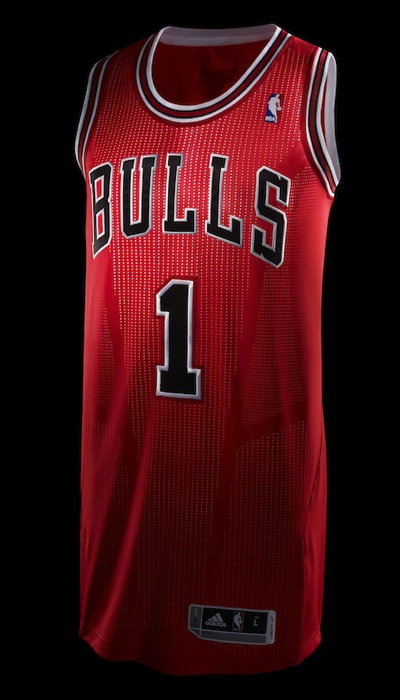 Reigning MVP Derrick Rose and the Chicago Bulls secured the top spots as the NBA's Most Popular Jersey and Team Merchandise list, based on sales at the temporary NBA Store on Fifth Avenue and on NBAStore.com from April 2011 to present.
Rose climbed from No. 5 last year to No. 1 on the jersey list for the first time in his career while helping the Bulls reclaim the top overall spot in team merchandise sales for the first time since April 2001. Prior to this year, the Lakers occupied the top spot in team merchandise since the end of the 2008 season.
At No. 2 on the list is New York Knicks sensation Jeremy Lin, whose breakout season also propelled him to the most popular jersey spot for February and March. Rounding out the top five are Kobe Bryant (No. 3), Miami Heat's LeBron James (No. 4) and the Knicks' Carmelo Anthony (No. 5). Since 2001, Bryant has claimed the No. 1 position six times and James has held it twice.
Top 15 Most Popular NBA Jerseys:
1. Derrick Rose, Chicago Bulls
2. Jeremy Lin, New York Knicks
3. Kobe Bryant, Los Angeles Lakers
4. LeBron James, Miami Heat
5. Carmelo Anthony, New York Knicks
6. Dwyane Wade, Miami Heat
7. Dirk Nowitzki, Dallas Mavericks
8. Kevin Durant, Oklahoma City Thunder
9. Blake Griffin, Los Angeles Clippers
10. Rajon Rondo, Boston Celtics
11. Amar'e Stoudemire, New York Knicks
12. Ray Allen, Boston Celtics
13. Paul Pierce, Boston Celtics
14. Dwight Howard, Orlando Magic
15. Chris Paul, Los Angeles Clippers
Top 10 Most Popular Team Merchandise:
1. Chicago Bulls
2. New York Knicks
3. Los Angeles Lakers
4. Miami Heat
5. Dallas Mavericks
6. Boston Celtics
7. Oklahoma City Thunder
8. Los Angeles Clippers
9. Denver Nuggets
10. Orlando Magic
Historical Top NBA Jerseys from end of season:
2012 – Derrick Rose, Chicago Bulls
2011 – LeBron James, Miami Heat
2010 – Kobe Bryant, Los Angeles Lakers
2009 – Kobe Bryant, Los Angeles Lakers
2008 – Kevin Garnett, Boston Celtics
2007 – Kobe Bryant, Los Angeles Lakers
2006 – Dwyane Wade, Miami Heat
2005 – Shaquille O'Neal, Miami Heat
2004 – LeBron James, Cleveland Cavaliers
2003 – Kobe Bryant, Los Angeles Lakers
2002 – Kobe Bryant, Los Angeles Lakers
2001 – Kobe Bryant, Los Angeles Lakers