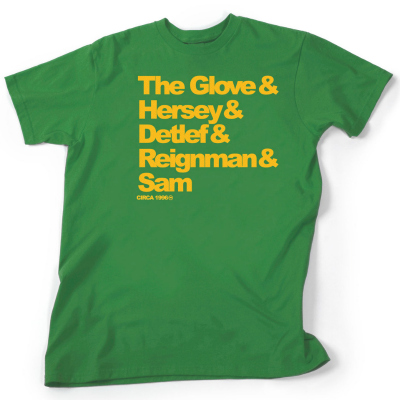 Before the OKC Thunder, there was the Reignman in Seattle. During the '95-'96 season the SuperSonics were the toast of the west conference, finishing with a franchise best 64–18 record and a Finals appearance.
With a talent loaded roster that included Defensive Player of the Year Gary Payton, All-NBA Second Team selection Shawn Kemp, deep threat Hersey Hawkins, versatile forward Detlef Schrempf and smooth Sam Perkins in the middle. This squad was arguably the strongest Sonics team ever assembled since 1979 when they won their first an only NBA Championship.
Too bad for them the Chicago Bulls picked that year to become the best team EVER (sorry Drake) with a 72-10 record and beat the Sonics in the '95-'96 NBA Finals. Cop this tee from UNDRCRWN to remember what was, when it was in Rain City.