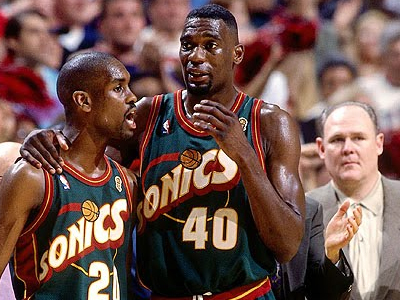 Well that was cool. Over the weekend the Seattle Mariners honored the SuperSonics franchise and players before their game against Tampa Bay.
All the former great Sonics showed up to receive some love too. Lenny Wilkens, George Karl, Gary Payton, Shawn Kemp, Tom Chambers, Hersey Hawkins, Slick Watts, Dale Ellis, Jack Sikma, Spencer Haywood, Fred Brown, Gus Williams, Nate McMillan, Michael Cage and James Donaldson all showed up to fans of the team that had a solid 44 year run in the city.
"We didn't deserve to lose a team. We lost a team," said former Sonics forward Detlef Schrempf, originally from Germany but who played his high school and college ball in Washington. "We're a major city in the U.S. We should have a franchise. You shouldn't lose it, not the way we did."
Give Seattle their basketball team and Grunge music back David Stern.
H/N ESPN