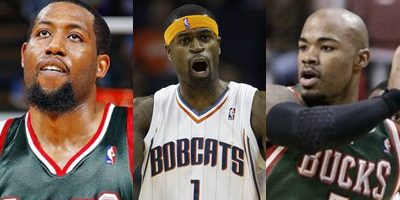 BOOM! Just like that the first big NBA draft night trade went down and it's a three-way bi-coastal humdinger between the Bucks, Kings and Bobcats.
Here's how it breaks down according to Yahoo! Sports. The Charlotte Bobcats will receive the seventh pick from the Kings plus Corey Maggette in an effort to land Tristan Thompson.
The Milwaukee Bucks receive Stephen Jackson, Beno Udrih, Shaun Livingston and the 19th overall pick.
While the Kings get John Salmons and the 10th selection from Milwaukee.