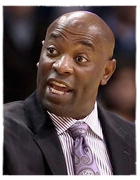 This was one shot Keith Smart couldn't make. Maybe nobody could.
The Golden State Warriors parted ways with their head coach Wednesday, the first major fallout this offseason from a new ownership group that has promised sweeping changes to the perennial underachieving franchise.
Smart, the Indiana guard best known for hitting "The Shot" against Syracuse that won the Hoosiers the 1987 NCAA title, spent seven years as an assistant with Golden State before he replaced Don Nelson just before training camp. The Warriors went 36-46 under Smart, a 10-game improvement from the previous season but clearly not enough to appease owners Joe Lacob and Peter Guber.
Only a rare playoff appearance was likely to save Smart's job.