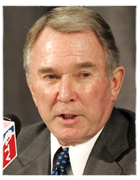 With the Hornets now in league hands. In a matter of years, the franchise could be moved if a suitable owner isn't found — bummer indeed! For that, local area basketball fans might not like former owner George Shinn all that much.
However the people of New Orleans that benefit from the $500,000 donation he made to the Salvation Army, will think he's alright for years to come.
"New Orleans is a special city that I will always consider home, and I want to continue to use my blessings and resources to positively impact the lives of those who share my love for this city," Shinn said. "My goal is continue to leave a lasting legacy in this community that will only help brighten the future of New Orleans and its residents."
The donation made of behalf of the George Shinn Foundation will provide housing opportunities for families in Southeast Louisiana by building family stabilization housing in New Orleans and across South Louisiana.
H/N WWLTV