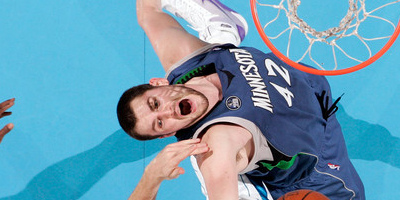 Kevin Love's remarkable streak of consecutive double-doubles came to an end with a thud, and no one was happier about it than the Minnesota star himself. Slowed by a thigh injury and worn out from all the attention he's been receiving lately, Love sounded relieved and eager to move on now that it's over.
"Now I can start focusing on playing my game," said Love after being held to six points and 12 rebounds in the Timberwolves' 100-77 loss to the Golden State Warriors on Sunday. "I thought I was doing it for myself but a lot of it was for the fans and everybody watching. I feel a big weight off my shoulders."
It's the first time since Nov. 19 that Love has failed to register a double-double. His 53-game streak was a franchise record and the longest in the NBA since Elvin Hayes did it in 55 consecutive games in 1973-74. Love's streak has been the only thing keeping the Timberwolves (17-51) in the headlines these days. Not anymore.