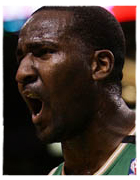 The Boston Celtics acquired Serbian center Nenad Krstic in a trade with the Oklahoma Thunder on Thursday.
The Celtics sent center Kendrick Perkins and Nate Robinson to Oklahoma City in exchange for the 7-foot Krstic and Jeff Green. The Thunder also received a 2012 first-round draft pick and cash in the deal.
Krstic suffered a knee injury while playing with New Jersey in 2006 and spent the next two seasons playing in Russia before the Thunder acquired him in December 2008.
Krstic is averaging 7.6 points and 4.4 rebounds in 47 games this season.