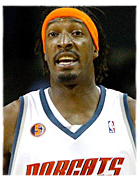 The Charlotte Bobcats have agreed to trade forward Gerald Wallace to the Portland Trail Blazers for a package that includes two first-round picks as owner Michael Jordan cuts payroll and eyes the future.
Coach Paul Silas confirmed Thursday the deal made just before the deadline would also give the Bobcats centre Joel Przybilla and reserve forward Dante Cunningham, who are in the last year of their contracts.
The Bobcats also sent backup centre Nazr Mohammed to Oklahoma City for reserve forward D.J. White and the expiring contract of guard Morris Peterson.