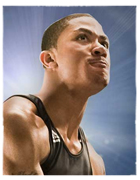 In a recent NBA related GQ article titled, "Five Greatest Under 25." Gary Payton gave Derrick Rose some huge props as one of the five recognized greatest. Here's what "The Glove" had to say about the terrifyingly unstoppable Derrick Rose.
''He's scoring at will. No one can stop him. He jumps so well at 6-3 that he can dunk over you. His first year, I didn't really think that he played very well. But he's learning, getting to the free-throw line and hitting the mid-range jumper — if he didn't, he'd be mediocre to me — and sometimes hitting the three-point shot. Is he relying too much on his natural athletic abilities? He's doing that because he can do that. I would love for him to distribute the ball more and play lockdown defense. That would make him more complete. I think he can be like Steve Nash. He's a young guy, a hard-working, smart kid, and he hasn't gotten to his full ­potential. If anybody thinks he's gotten to his full potential, they don't know nothing about basketball.''
Yup, I'd say that's a pretty huge endorsement too. Kevin Love, Brandon Jennings, Stephen Curry, and Blake Griffin also receive big props in the article.