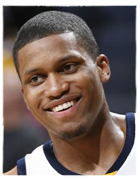 Memphis Grizzlies forward Rudy Gay has been diagnosed with a left shoulder injury that will sideline him for at least four weeks, the NBA team said on Wednesday.
Gay suffered the injury when fouled by Philadelphia's Evan Turner while attempting a shot in the second quarter of the Grizzlies 102-91 win over the 76ers on Tuesday.
Gay shot the two free throws one-handed before leaving the game.
Gay, averaging 19.8 points and 6.2 rebounds per game this season, will begin rehabilitation in one week and be re-evaluated in four weeks, officials said.