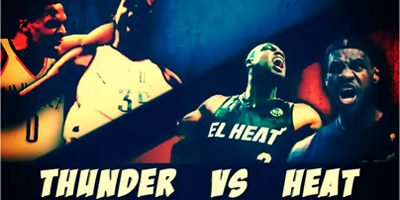 This Sunday the Miami Heat vs Oklahoma City Thunder goes down. Which means LeBron James, Dwyane Wade, Chris Bosh, Russell Westbrook and Kevin Durant will all be under the same roof entertaining us silly. If that doesn't get you excited, you must be a zombie with enough dexterity in your rotting flesh to surf the internet. If that's the case, thanks for reading my blog and please don't eat my brains Mr. / Mrs. Zombie.
To excite the living and undead a like, YouTube veteran m2e1iriko put together a montage preview of the clubs set to do battle this weekend and you'll like it more than brains or pizza.
Check it out after the jump.