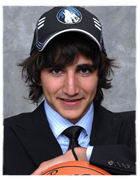 The Timberwolves drafted Ricky Rubio with the fifth overall pick in the 2009 in hopes of him one day joining their band of other guys that don't want to play in Minnesota and guess what, he doesn't want to play in Minnesota either. Instead, according to folks in the Ricky Rubio camp, he'd like to take his talents to the Knicks, Heat or Celtics. Uh-oh is right David I love point guards Kahn.
"The bottom line is, why would he want to play in Minnesota?" a senior member of Rubio's camp said this month. "He'll continue to say all the diplomatic things, and Minnesota needs to keep his value up for trade purposes, but the family's preference is to be on the East Coast, specifically New York, Miami or Boston. He wouldn't be troubled if he has to stay another year."
Those comments are colder than a Minneapolis winter Rubio camp guy. Ricky coming to the US is now boarding on Arvydas Sabonis territory. Maybe you appreciate Minnesota more than Rubio does and you love it that much that you already know what to do in Winona Minnesota when you come over for a visit. If he would just come to the NBA and play for the T-Wolves, Ricky would get all the playing time he needs to become the NBA pro, I'm convinced he's not right now. BTW, "The Ricky Rubio Watch" has now become my favorite Telenovela.
H/N NY Times