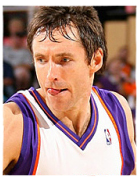 Luyou? Blame a mix of the internet making everything global, a huge Asian market and a US dollar in decline for many of the leagues stars signing with smaller athletic brands in Asia.
Shaquille O'Neal, Kevin Garnett, Baron Davis, Jason Richardson and a handful of other players have already ditched Nike, Adidas and Reebok to capitalize on the growing Asian market overseas and Steve Nash recently decided to join the fray, agreeing to sign a deal with Luyou to end his 15 year relationship with Nike according to Counter Kicks who confirmed to rumor with Nike.
"We can confirm Steve Nash is no longer under contract with us. We had a great run with Steve and we wish him all the best. We're extremely pleased to work with the NBA's top players like Kobe, LeBron, Durant and Wade, who wear our basketball products, the most innovative in the game today."
With a market segment of a few billion people, there is no doubt that Luyou Steve Nash signature kicks will sell like cold beers on the weekend in Shanghai, but it'll be interesting to see if they catch on in the north america market — kinda like Tsingtao beer. No terms of the new deal Nash signed with Luyou have been released yet.
H/N Counter Kicks