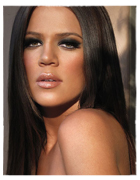 The union between Lamar Odom and Khloe Kardashian is already a reality based program, it's just that E! television cameras will now be officially documenting their life together with commercials in between for our viewing pleasure.
Set to debut in April, the 30-minute show tentatively titled "Khloé & Lamar," will give us all the access in the world we can handle of these two love birds.
"It's an opportunity," Odom said Wednesday before the Lakers game against the Phoenix Suns. "I don't know if 'excited' is the right word, but it should be fun. It should be a lot of fun. I look forward to doing it and seeing the outcome."
At this very moment, I'm praying for a Ron Artest spin-off show already. But don't get it twisted, I'll be watching to see how this thing plays out.
H/N E! Online