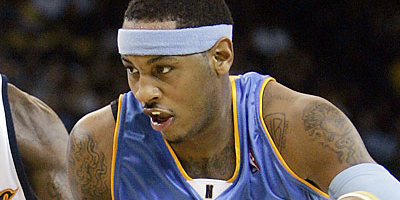 Basketball party time is just around the corner and once again players have things to prove on the hardwood. But who are the best players in the league at each position on a nightly basis in the '10-11 season? With your mind and excel sheet ablaze trying to figure that riddle out to no end.
Here's my list of who the Top 5 players in the league are by position going into the '10-11 season.
Today, we talk small forwards.
5. Paul Pierce
09-10 Stats: 18.3 PPG / 3.1 APG / 4.4 RPG / 1.2 SPG / .472 FG%
Pierce is getting older and that's the real Truth, yet for some reason he's been steady as an old Ford truck and his productivity has transformed into huge Boston wins. To become the 3rd all-time scorer in Celtics history, you gotta be doing something right each year.
4. Gerald Wallace
09-10 Stats: 18.2 PPG / 2.1 APG / 10.0 RPG / 1.5 SPG / .484 FG%
Wallace is one of those guys you want on your team cause he'll run through a wall for his squad. Fresh off his fist all-star season, pencil "Crash" in for another all-star year and a double-double of at least 19 and 10.
3. Danny Granger
09-10 Stats: 24.1 PPG / 2.8 APG / 5.5 RPG / 1.5 SPG / .428 FG%
Granger is one of the best young talents in the league with the ability to score like nobody's business. Somehow, that fact has never translated into wins for the Pacers. I would love to say this will change this season, but it won't and his scoring will probably rise.
2. Carmelo Anthony
09-10 Stats: 28.2 PPG / 3.2 APG / 6.6 RPG / 1.3 SPG / .458 FG%
It's rare to talk about Melo without discussing him wanting out of Denver, and I'll make no exception here. Regardless of what jersey Anthony finishes the season wearing (Knicks), he'll end up top five in scoring and we'll all wonder why he can't grab more rebounds, steals and assists just like every season.
1. LeBron James
09-10 Stats: 29.7 PPG / 8.6 APG / 7.3 RPG / 2.1 SPG / .503 FG%
This season LeBron will be surrounded by the best team he's ever been a part of, and if things go as planned. LBJ should be back in the MVP conversation after the season ends. In all likelihood #6 could become the first player ever to win three straight MVP awards, but that doesn't mean his Q rating will go up.