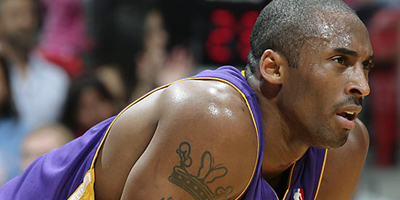 Basketball party time is just around the corner and once again players have things to prove on the hardwood. But who are the best players in the league at each position on a nightly basis in the '10-11 season? With your mind and excel sheet ablaze trying to figure that riddle out to no end.
Here's my list of who the Top 5 players in the league are by position going into the '10-11 season.
Today, we talk shooting guards.
5. Stephen Curry
09-10 Stats: 17.5 PPG / 5.9 APG / 4.5 RPG / 1.9 SPG / .462 FG%
In some peoples eyes, Curry was robbed of Rookie of the Year honors and his stats make a good case for a co-ROY nod. Curry is poised to have at the very least a 4 point increase in point production this season and he'll earn his elite ranking by the time the season is over. You always gotta watch out for a kid that grew up shooting hoops on NBA courts since he was a wee lad.
4. Tyreke Evans
09-10 Stats: 20.1 PPG / 5.8 APG / 5.3 RPG / 1.5 SPG / .458 FG%
One of the nicest surprises from last season was Rookie of the Year, Tyreke Evans. Only LeBron had numbers similar to his in year one of a NBA campaign, and with his added experience he should at the very least maintain his 20-5-5 clip. 
3. Dwyane Wade
09-10 Stats: 26.6 PPG / 6.5 APG / 4.8 RPG / 1.8 SPG / .476 FG%
Christmas came early this summer for Wade in the form of two high-profile free agents you probably heard of before joining the Miami Heat this offseason. His scoring average will have to take a slight dip in the spirit of sharing with his new more than capable teammates, but his assist totals should rise to keep him in the elite category. Trading a few points for a ton of wins just seems like a win-win here.
2. Kobe Bryant
09-10 Stats: 27.0 PPG / 5.0 APG / 5.4 RPG / 1.5 SPG / .456 FG%
All Kobe does is win, and that's a good thing. However he's been winning and playing for so long that he is now entering his 15th season as a pro with an arthritic index finger on his shooting hand and a surgically repaired knee. It's hard to believe that Kobe has played the second most minutes of anyone his age in league history, just behind Garnett but here we are. Who knows if Kobe is really in decline or if he's simply getting better help these days, but at any rate. He remains the best closer in the game and makes loves to pressure. Old man Bryant can still ball will the best of them!
1. Kevin Durant
09-10 Stats: 30.1 PPG / 2.8 APG / 7.6 RPG / 1.4 SPG / .476 FG%
In just three seasons, Durant has increased his scoring average by 5 points each year since he entered the league as a fresh faced rookie and enters this season as the reigning scoring champion. He isn't the best player in the league yet, but at just 22 years old it should be too long before he's the king of the heap.