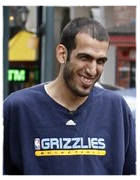 I'm a NBA center, get me outta here!
That's what I imagine Memphis Grizzlies big man Hamed Haddadi is saying to somebody right now in Iran, where he's stuck there like he probably got stuck here — but with much more leg room.
The NBA season is less than two weeks away, and Haddadi is stuck in Iran trying to resolve a legal issue that has prevented him from leaving his native country.
Last season in 36 games, Haddadi averaged 1.7 points and 2.1 rebounds in a reserve role with the Grizzlies.
H/N Payvand