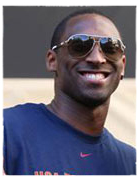 Regal FC Barcelona winners of multiple Euroleague championships beat the LA Lakers winners of the past two NBA Championship, in a 92-88 win last night at the Palau St. Jordi. This game was nothing more than a friendly, but could FCB compete in the NBA for 82 games? According to ESPN Phil Jackson says "no", Kobe Bryant says "yes".
"I think they execute extremely well, they know each other extremely well, they move the ball extremely well and that's what you're looking for," Bryant said. "In the NBA, teams that do that are few and far in between, teams that play together as a unit. You see a lot of isolation game; you see a lot of guys going one-on-one. They do a great job moving the ball, they do a great job helping each other defensively, so I disagree, but, what do I know?"
No NBA team wins a championship without having a special chemistry throughout their roster and most of the guys on Barcelona have been playing together since their teens with the Spanish national team program. For that reason, their team chemistry is off the charts and it shows in their ball movement and help defense like Bryant said.
Still, the main reason why Phil Jackson believes FCB could not compete in the NBA is due to the grueling 82 game schedule NBA clubs face.
"They played really well [Thursday], but they're not up to the competition that we face night in and night out," Jackson said. "But that's not taking anything away from them. The physicality of our game, the size of our players, those are things that night in and night out are very difficult to contest."
Jackson has 11 championship rings and knows that the challenge of playing 41 games on the road can break a squad. But until the New Jersey Nets are relegated to the Euroleague, and FC Barcelona is called up the NBA. I guess we'll never truly know.