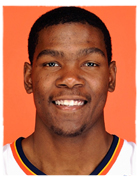 Taking shots at LeBron James for "The Decision" is pretty easy — mostly because the whole event was stupid. Emerging superstar Kevin Durant has his own take on LeBron heading south and he's puzzled at the mass thumbs down toward "The King" for signing with the Miami Heat.
"A lot of people really don't get to see what kind of person he is," Durant said of James. "He was trying to look out for himself, his family and trying to make the right decision for his family. You can't blame a man for that, no matter what you do, (whether it's) playing basketball or being a teacher. People with different professions leave their jobs all the time for better places. So you can't judge him for what he did. He's just looking out for himself."
You know what really sucks about sports? The fact that we gotta be surprised when an athlete remains humble and has a level of normalcy to them still. The fame and fortune hasn't got to the head of Kevin Durant (yet), if he remains in a smaller market and keeps the same work ethic that probably won't change. Judging by his take on LeBron moving to Miami I don't think people in Oklahoma City will ever have to worry about Durant breaking up with them on national TV.
H/N Oklahoman