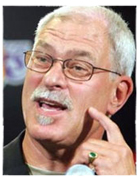 The Miami Heat have Dwyane Wade, LeBron James and Chris Bosh to form one of the most expensive and talented trios in NBA history. So what does Phil Jackson think? Meh. The league has been around since 1946 (same year the bikini was introduced) and the combining of superstars thing has been done in the past without success too, as the Zen Master points out.
"They got great talent," Jackson said in an interview with ESPN 1000 in Chicago. "There's no question about their talent they have. But, talent doesn't always win. The team that shows the best teamwork will win it. We think that [the Lakers] have established something. But, if [the Heat] can unite — and build quickly — they might be able to do it."
If he didn't have more rings than fingers, this wouldn't be a valid point. The Master continues.

"I always refer to when Wilt Chamberlain was traded from Philadelphia to Los Angeles and that put [Elgin] Baylor, [Jerry] West and Chamberlain together — three of the top scorers in NBA history — and they never won a championship together the four years they were together," Jackson said. "It's not always scorers and talent that wins it. But it's teamwork that does it."
Sure, it worked when the Boston Celtics did it in 2008, but that had way more to do with chemistry than talent. If Baylor, West and Chamberlain had problems pulling this kinda thing off, chances are Miami might too.
I'm just sayin' South Beachers.
H/N ESPN