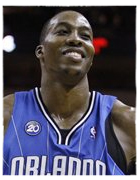 According to the Empowered News, Dwight Howard was invited to Haiti by UNICEF and Haiti's Olympic Committee on a 72-hour trip to visit refugee camps and play some hoops with children of the country still trying to rebuild itself after being struck with a massive earthquake that killed over 200,000 people on January 12, 2010.
"I came down here because a lot of people in the (United) States have forgotten the disaster that happened in Haiti," said Howard after playing an informal basketball game with some 50 children during a stop at a tent city. "My objective is just to come over here and put a smile on kids' faces," it's been on my mind everyday. And I want to make sure that I do my part. I wanted to show my support."
Dwight Howard also donated $100,000 for educational and recreational programs for Haitian children and intends to spread the word when he returns state side, that Haiti still needs help to rebuild. That's awesome! If you want to help Haiti now, here is a link to UNICEF.