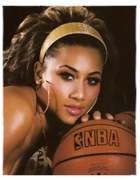 Zooey Momma! Where have I been, besides being busy watching Diary of a Wimpy Kid with my nephew. The wags ranking are about to get a major shake up because Shaquille O'Neal apparently proposed to his new girlfriend VH1 reality show star Nicole Alexander aka Hoopz.
According to the St. Louis Post-Dispatch, recently divorced Shaq proposed to Hoopz at a Sahara Mediterranean restaurant and Hookah Lounge by taking a chair into the middle of the dance floor and slipping a ring on her finger. Lounge owner Sam David tells the newspaper, "I think he may have proposed to his girlfriend."
Well I didn't attend marriage college or engagement university, but all signs seem to be pointing directly to pending nuptials. In November 2009, O'Neal and his wife Shaunie O'Neal filed for divorce after 7 years of marriage. If you have no idea who Hoopz is, all you need to know is that she wins more reality TV shows than Shaq has won competition in two seasons of Shaq Vs. and she can ball with the best of them.
See what I mean after the jump.