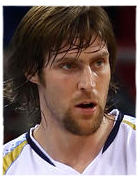 Philadelphia 76ers forward Andres Nocioni won't play for Argentina at the world championships because of a left ankle injury.
The 76ers advised Nocioni to skip the tournament, and Nocioni confirmed Thursday he won't play.
Nocioni told reporters that the team "exercised an option in my contract that when I get injured during national team activities they can prevent me from playing."
After an MRI, a team doctor recommended that Nocioni stay off the court until the start of training camp at the end of September.
The six-foot-seven forward was acquired from Sacramento this summer as part of the trade that sent Samuel Dalembert to the Kings. Argentina opens Saturday against Germany.