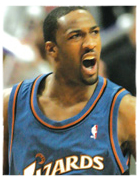 New Wizards owner and part-time blogger Ted Leonsis was hanging out at the Verizon Center and stumbled into a pick up game featuring many NBA players and says he was very happy with the heat coming from the Hibachi on the hardwood via his blog.
Gilbert Arenas played last night. It was a very good evening of basketball. Gil – our All-Star – matched up against another NBA All-Star. It was quite a show and quite a display of talent.

I won't comment yet on Gilbert or who was in the gym last night but suffice to say Gilbert looked trim, fit and explosive. His shot was sweet and he did one left handed dunk that was something to see. It had everyone talking. I was impressed and am happy.
Translation, Gilbert Areans is down to wreck shop this season. If he can stay healthy for a majority of the schedule, a backcourt combo of John Wall and Arenas will be on another level. Too bad that's a big "if", since 2007 Arenas has only played 47 games due to injuries and suspension.
H/N Ted's Take