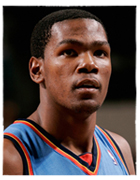 I don't think for a second that Kevin Durant and his "brand" is based on anything but winning. No clever number changes, no online media campaigns, no gimmicks and no over exposure. Dude just lets his game do the talking and puts up the numbers his team needs to get the job done.
That doesn't mean that he's gone unrecognized internationally though. The fastest man in the world from Jamaica Usian Bolt, is a big fan of Kevin Durant and called the youngest scoring champ ever his role model in a recent interview with The Daily Mail.
At the moment it's Kevin Durant, the basketball player. Kevin is a good leader; he's very strong and very determined. Whatever he does, whether he's tired or injured, he works through it, pushes on and challenges his team-mates to do their best.
Bolt also listed US 200m specialist Michael Johnson and Jamaican sprinter Don Quarrie as others he looks up to.