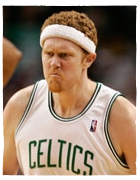 Unrestricted free agent and Celtics human victory cigar Brian Scalabrine might be the odd man out in the Celtics talent stacking party with Shaquille O'Neal recently added to mix. So Scal might have to take his victory cigar talents international.
"The thing you have to realize is I don't sweat things out of my control," he said. "I am not doing this (community event) to get signed. I am not feeding children to be signed. I am feeding children because children need to be fed.

"Based on this year, I knew I would have to be patient. If I had to go to Europe and play I will go do Europe and play. My kids are going to go to great schools in Europe and they are going to learn the culture over there and take it as a learning experience and 10 years from now, I am going to call back and say, 'remember when we lived in Barcelona for three years?'"
If the C's can figure out a way to keep Scal in the fold, I'm sure he would accept less to keep it green and remain a Boston fan favorite. Last season, the normally sharp shooting Scalabrine only shot 32.7 percent from the 3-point line in 53 games largely due to his ailing right shoulder.
H/N Boston Globe