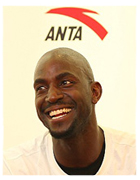 Ignoring a market that has a billion people living in it is a bad idea, but those days are coming to a screeching halt as the Chinese sports apparel market slowly pics up speed in the shoe game.
Baron Davis, Jason Kidd, Ron Artest, Jason Richardson and Shaquille O'Neal are just some of the stars that already left shoe deals with household sneaker names in the US to join Peak and Li-Ning in China.
Now Kevin Garnett joined the ex-pat sneaker maker club, agreeing to a deal with China based sportswear maker Anta in a press conference who also signed Rockets forward Luis Scola a while back too.
No figures on the deal KG signed have been released but, with a market of a billion people "Anything is Possible