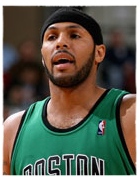 The Voltron like stacking of the Miami Heat championship robot continued today with the signing of Eddie House to a two-year deal to kick it in South Beach according to the Miami Herald.
"It's just a great fit," Bartelstein said. "This guy had a great relationship with the Heat before. And he's still one of the most dynamic guys coming off the bench at hitting big shots in big moments. He's the best in the league at what he does."
House will receive about $2.8 million over two seasons, which is the veterans' exception. There is a player option in the second season.
House was selected by the Heat in the second round (37th overall) of the 2000 NBA Draft and played in Miami for 3 seasons before leaving for Los Angeles Clippers via free agency.