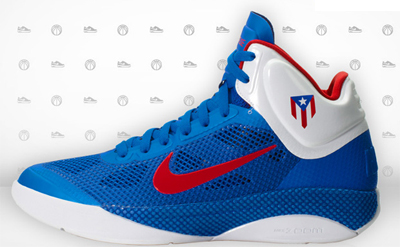 Puerto Rico currently slapping the dust off the competition at the Central American and Caribbean Games, is gearing up for the first ever Nike World Basketball Festival which will also feature Brazil, China, France and the United States before taking off to Turkey to participate in the FIBA World Championships taking place in Turkey from Aug. 28 to Sept. 12.
On their mostly local roster, Team Boricua will include NBA ballers Renaldo Balkman, JJ Barea and hometown hero who knows a thing or two about giant killing Carlos Arroyo.
While they chase down more big international, Nike hooked PR with some fresh n' fly Nike Zoom Hyperfuses that will be available in limited numbers sometime this summer. Complete with the Puerto Rican flag on the tongue, these shoes will move units like Shania Twain! They are that ill! Nike also created a Team Puerto Rico Hyperdunk, but honestly — they just ain't as hot son.
See another pic of the Team Puerto Rico Nike Zoom Hyperfuse after the jump.