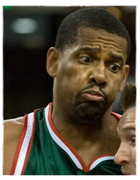 Kurt Thomas signed a one-year deal in a move that was announced on Monday, giving the Chicago Bulls a strong defender and rebounder to go with Boozer and Noah. And they have a new coach in Tom Thibodeau.
"I've been looking forward to seeing Thibodeau get a head coaching job for a number of years," said Thomas, who played for New York when Thibodeau was a Knicks assistant. "He definitely put in his time. He's a hard worker. He's very passionate about the game. And to finally see him get this opportunity and be a part of it is definitely a blessing."
The new coach, new additions and core that was in place were big draws for Thomas.
"All those weighed in heavy in my decision to sign here," he said.