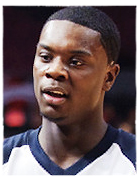 The Indiana Pacers have signed second-round draft pick Lance Stephenson to a multiyear contract. The Pacers made the announcement Thursday, but did not disclose the terms of the deal.
Stephenson was the 2010 Big East Rookie of the Year at Cincinnati this past season. The 6-foot-5 guard was the Pacers' second-leading scorer in the Orlando Summer League at nearly 15 points per game, and led the league in field goal percentage at 73 percent.
The Pacers have said Stephenson could play both guard spots. Team president Larry Bird said he was surprised the talented guard was available at the 40th pick. The Pacers already had signed first-round pick Paul George.