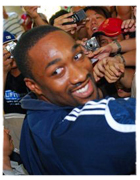 The Wizards were so bad last year, new owner Ted Leonsis has got to believe things can turn around or else he wouldn't have bought the team. We all know the problems Gilbert Arenas had last season, but with uber talent John Wall added to the mix. All of a sudden the prospect of watching one of the best backcourt combos in the league (on paper so far) seems sexy enough of an idea to give Arenas one more chance to the new owner.
"Obviously our franchise player is Gilbert Arenas said Leonsis: he's been injured for a couple of years, and he was suspended last year. I've reached out to Gilbert and I find Gilbert to be a very authentic, warm, nice guy. And he's certainly a very talented player, and we're gonna be in it together. I have his back, and he's been working out really hard over the summer. We will have a good professional relationship. He knows what we're trying to build and he wants to be a part of it." … [Leonsis] repeated his contention that the Wizards will have one of the best backcourts in the NBA. He also said Gilbert's role will change for the better. "I think John Wall will add years to Gilbert's career," he said. "He'll lug the ball up, he'll run. Gilbert is a great shooter, Gilbert goes hard to the rim. … John has great physicality and off the chart basketball IQ, and great players want to play with great players."
When an owner goes on record to say "he has your back", that's a good thing. But when you've only played 47 games in the last three years that's a really bad thing. If Arenas can play more games than he has in the last three season, I like the way this looks. However at this point, that could be asking a lot from The Hibachi.