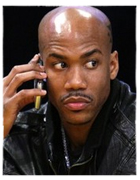 Crazy Stephon Marbury news doesn't take summers off and I'm grateful for that, like HDTV! Marbury who has moved his game and global Starbury empire to China, isn't doing so well on the business front these days so he decided to sell his company for the grand sum of one dollar according to TMZ. Amazing yes, shocking no.
In the lawsuit, filed Friday in L.A. County Superior Court, a woman named Thuymai K. Ung claims Marbury agreed to sell her 100% of his company — which includes a piece of property in L.A. — back in December … for the sum of one American dollar. In the documents, Ung alleges that Marbury is now claiming that he still owns part of the company and/or the property. According to the suit, the property is currently in foreclosure,
It's a shame he didn't come to me first. I would have given him at least $10 for the company, kept him on as the president and let him keep the logo on the side of his head too.