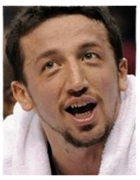 Hedo Turkoglu wanted out of Toronto and according to the Arizona Republic he'll get his way.
The Suns would send seven-year veteran guard Leandro Barbosa and late-season addition Dwayne Jones to Toronto for Turkoglu, a 6-foot-10 forward from Turkey with versatile skills to shoot from long range and be a playmaker. Toronto would then move Jones and its trade exception from the Chris Bosh sign-and-trade deal to Charlotte for former Suns forward Boris Diaw.
If Diaw and Barbosa can return to their form of a few years ago when they were team mates in Phoenix, this deal could be an interesting one for Toronto who needed more depth.In addition to adding Hedo Turkoglu, the Suns plan to add current Euroleage and former Hawks player Josh Childress to help fill the crevasse left by the departure of Amare Stoudemire now with the New York Knicks.