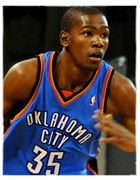 Wade, Bosh, James blah, blah, blah. So far the re-signing or extensions that have been signed in 2010 have been more exciting than the dull free agency signings and that didn't change today. Via his Twitter page (@KDthunderup), scoring champ Kevin Durant announced that he has agreed to a five-year contract extension with the OKC Thunder.
"Exstension for 5 more years wit the thunder….God Is Great, me and my family came a long way…I love yall man forreal, this a blessing!"
Terms of the re-up deal are unclear, but should be available by Thursday when players can officially sign their new contracts. Last season at 21 years old, Durant led the league in scoring (30.1 ppg) becoming the youngest player in NBA history to accomplish the feat.