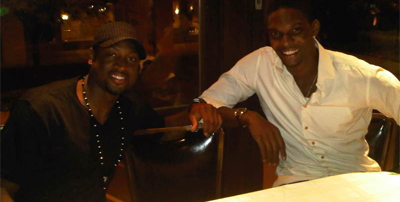 Membership has its privileges, and if you were lucky enough to be drafted as part of the 2003 entry class. Life is good. Champagne wishes and caviar dreams good.
On the first day of free agency 2010, after all the pitches were made from teams to get big dogs like LeBron James, Chris Bosh and Dwyane Wade to resign or sign with new clubs bearing gifts.  Future potential teammates Wade and Bosh linked up for dinner and @chrisbosh Tweeted this pic with the message.
Just had dinner w @dwadeofficial. Great way to end day 1 of#freeagency although it feels like someone is missing……http://say.ly/FrP2L8
Obviously the empty seat in the middle was reserved for James who didn't attend the G3 summit, but I'm sure the meal these two dudes had on the house were delicious and the gossip was great.