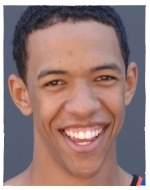 Channing Frye and Hakim Warrick could be benefiting early from Amare Stoudemire seeking greener pastures elsewhere.
Today Frye re-signed with the team that has transformed his game, for a reported five-year, $30 million deal though the signing can not become official until July 8.
Then the Suns focused their attention on Amare-esque power forward Hakim Warrick signing the free agent to a deal worth $18 million over four-years. These two signings seem to indicated STAT won't be back, and the reloading period in the desert has begun.
Given the track record of new players who join the Suns while Steve Nash is manning the PG spot, don't be surprised if Hakim Warrick has a career year.